I use 100 % natural fiber yarn to knit and/or crochet purses and pouches. The pattern for these items is adjusted to accommodate the felting process. I then throw the knitted/crocheted item into the washing machine and agitate using hot water and soap until the desired amount of felting has been accomplished. These and other items are available for sale.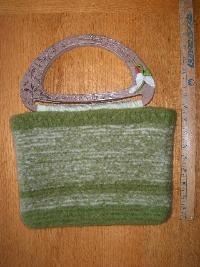 This was green wool yarn in two colors knitted into a purse and then felted in the washing machine. I then lined it with cotton fabric and added the wood handle.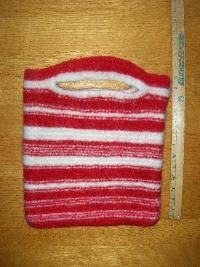 This was made with 100% wool yarn in two colors. It was knitted and then machine washed.