FIBER PROCESSING: We offer washing, picking and carding of wool fleeces and limited other fibers. We create a 5-foot long by 18-inches wide fluffy batt that can be used for spinning, felting and quilting. The depth of the batt can be adjusted to the needs of the customer.

FELTING: We offer needle felting and limited wet-felting of your washed and carded fleeces. Our process allows us to offer sheets of felt as large as 4 feet by 6 feet in size.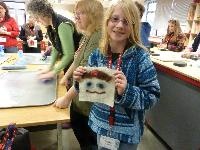 FELTING CLASSES: We offer classes in needle and wet felting. These classes are great for groups and individuals. We specialize in art classes for Home School students and offer discounts for multiple students.

We have Felting Kits for sale. Each kit contains everything you need to make an 18" X 18" square of alpaca felt. $25.00 each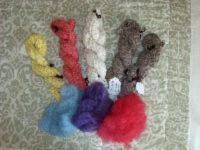 FIBER: We raise alpacas at our farm and have beautiful fiber available in all natural colors. This fiber is great for spinning and felting projects. .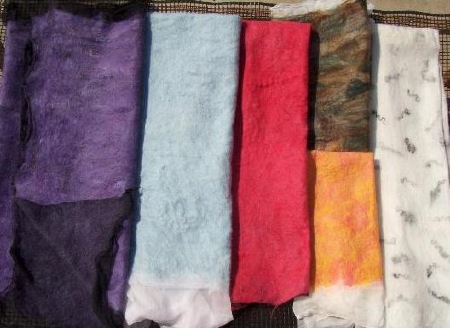 FELTED SHEETS: We have created sheets of felt from our own alpaca herd. These are available in several colors, multitude of sizes and thickness to serve your needs. Thicker sheets of felt make wonderful batting for quilts and blankets. Or, thinner sheets can been sewn into creations of your imagination.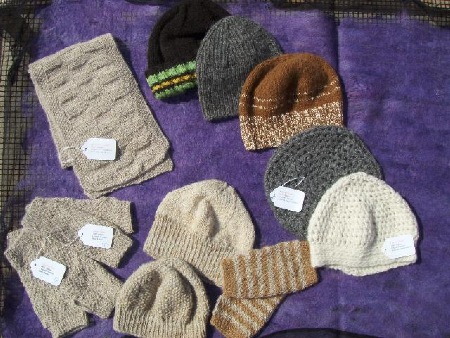 KNIT/CROCHET PRODUCTS: We have hand knitted or crotched items using hand spun wool and alpaca fibers.

KNIT/CROCHET FELTED PRODUCTS:

We have a large selection of knitted and then felted purses and pouches.